If you're a part of the Stampede, you already know that grassroots movements are good for the health of our democracy. But did you know they're also good for your personal health?
Numerous studies have shown that civic engagement and activism have positive effects on our physical and mental well-being. For example, people who feel they have found and pursued a purpose in life tend to live longer, and those who give back to their communities are more likely to have lower levels of blood pressure, depression, and stress. From the perspective of civic-focused activity, voter participation has resulted in better self-reported health outcomes. Members of activist groups, meanwhile, are often more physically active and socially connected.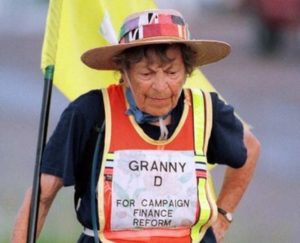 Looking for ways to stay healthy and politically active? Here are some suggestions we have:
Voice your support for the For The People Act before the Senate votes:

With the sums spent on campaigns growing astronomically and the vast majority of states considering or passing bills that would restrict voting rights, we must pass legislation that restores democracy by and for the people. The For The People Act (S1) does that, but for it to pass, we need to keep pressure on our Senators.

Call your Senators at (202) 224-3121 or (202) 224-3091 (TTY) and urge them to pass the For The People Act.

See our previous

blog post

for more information on this bill.

Join a democracy reform organization in your area:

Many organizations are strictly virtual in the midst of the pandemic, but there are still ways to get involved. And once it's safe to meet in person again, you'll have a new community! You can learn more about some of these organizations on our

Partners page

.
Coming off of 2020, all of us are seeking ways to improve both our own health and the health of our democracy. Just by being part of this incredible community of activists, we're well on our way!