Our partners are doing important work to enact legislative reforms and pass a constitutional amendment to overturn Citizens United and get big money out of politics. Our goal is to visually demonstrate an accelerating stampede of public support for these projects and to build the movement to put them into action. These groups are involved in research, grassroots organizing, education, campaigning for state and local resolutions and initiatives, and helping to craft an amendment to the U.S. Constitution that would overturn Citizens United and make it possible for common-sense legislative solutions.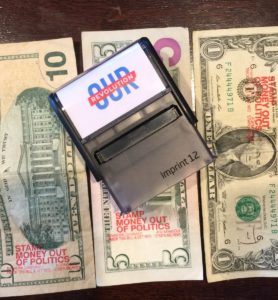 We have dozens of partner branded stamps, check them out here. Check out all of our partners and allies below and visit their websites to learn more about how you can get involved today.
If you see an organization that is missing or you have a recommendation for a local or national group that we should add to our list, please contact us at info@StampStampede.org.