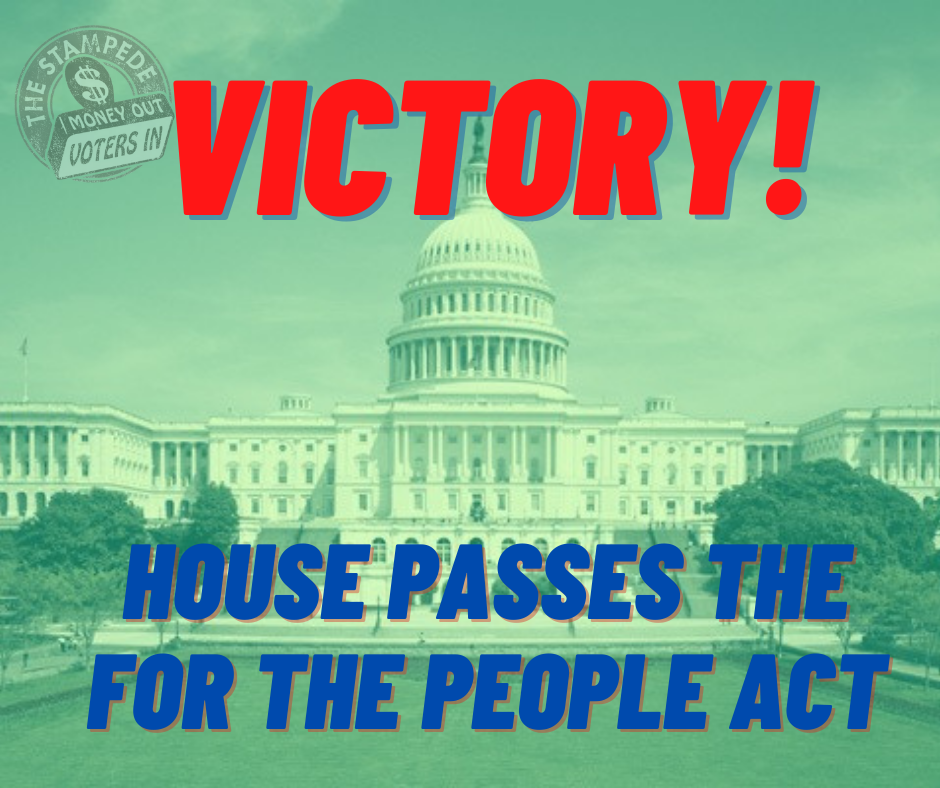 BREAKING NEWS: Last night, in a vote of 220-210, the House passed the For The People Act (H.R. 1), bringing us one step closer to getting big money OUT of our politics and voters IN!
But we're not done yet. H.R. 1 is now on its way to the Senate for a vote.
Call your Senators at (202) 224-3121 or (202) 224-3091 (TTY) and urge them to pass the For The People Act.
The For the People Act is a once-in-a-generation package of proven reforms that would:
Put ordinary Americans ahead of Big Money donors;

Call for a constitutional amendment to overturn Citizens United;

Expand and protect voting rights and access to the ballot;

End gerrymandering so that electoral districts are fairly drawn; and

Combat corruption by holding elected officials to the highest ethical standards.
"Our democracy is in a state of deep disrepair. During the 2020 election, Americans had to overcome rampant voter suppression, gerrymandering and a torrent of special interest dark money just to exercise their right to vote. Across the country, people of all political persuasions – including Democrats, Independents and Republicans – are profoundly frustrated with the chaos, corruption and inaction that plague much of our politics," House Speaker Nancy Pelosi, Rep. Zoe Lofgren, and Rep. John Sarbanes said in a joint statement when the bill was introduced in January. "H.R. 1 will protect the right to vote, ensure the integrity of our elections, hold elected officials accountable and end the era of big, dark, special-interest money in our politics."
The American people are tired of a government that prioritizes big money over the needs of the voters. We demand a democracy that works for all of us.
Don't forget to check out our democracy reform-minded stamps in our shop!