The Senate is in the midst of a contentious battle to pass a $3.5 billion social and climate spending package. As negotiations continue, Arizona Senator Kyrsten Sinema, one of the two centrist Democrats holding up the process and staunchly defending the filibuster, is making headlines for some controversial campaign fundraising.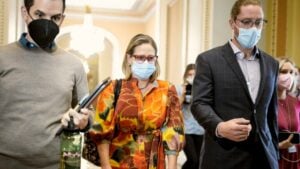 In September, Sinema held a fundraiser with five major business lobbying groups, all of which oppose the reconciliation bill because of its proposed tax hikes on corporations. Lobbyists for the National Association of Wholesaler-Distributors, the grocers' PAC, roofers, electrical contractors, and a small business group called the S-Corp political action committee, were given 45 minutes to discuss their clients' interests with Sinema in exchange for checks between $1,000 and $5,800. Sinema has come out against the increased taxes on corporations and the wealthy needed to fund the bill.
And these aren't the only groups trading cash for influence with Kyrsten Sinema. Industries and corporations leading the fight against the bill have given Sinema nearly $1 million in exchange for her public objections to tax hikes on corporations and the wealthy that would make the spending package possible over the next ten years.
These contributions are fueling some of Sinema's other contentious stances when it comes to the spending package. For example, Sinema has openly voiced her opposition to a measure that would let Medicare negotiate to lower prescription drug prices. At the same time, she received $16,000 from the executives of pharmaceutical companies Bristol-Myers Squibb, Eli Lilly, Genentech, Gilead, and Merck. It's moves like these that have led Sinema to become a major name on K Street.
Potential Repercussions in 2024
No one appears to be more outraged by Sinema's corporate backing than the grassroots organizers that helped to elect her. When running for office in 2018, Sinema promised to fight for lower prescription drug costs and relief for working families. Her thumbs-down rejection of a $15 minimum wage, support for the filibuster, and resistance to the spending package have led to backlash.
Over 80 percent of the Arizona Democratic Party last month voted to back a potential "vote of no confidence" resolution if Sinema doesn't reverse her stance on the filibuster, which the Party opposes. Voters staged protests outside her Phoenix office and attempted to speak with her both during and after a flight to D.C. Some even confronted her in a bathroom and at the Boston Marathon. Through all of this, Sinema has failed to face her constituents.
The message is clear: Arizona voters are not going to let big money corrupt their representation in the Senate. They are ready to stamp big money out!