I, like millions of other Americans and no doubt a whole lot of Stampers, suffer from sciatica – the lower back pain that shoots down your legs. I, your Head Stamper, don't suffer from your normal run of the mill sciatica, either. I've got the super version– lumbar stenosis/spondylolisthesis. No matter: pretty much all sciatica stuff is the same.
For any relief, you got to take pressure off the pinched nerve.
While feeling this pain in the waiting area of the airport, I did what any good Stamper should do. I pulled out my wad of dollar bills, ink pad, and stamp and started stamping up a storm.
After stamping bills with the message Not To Be Used To Bribe Politicians, I felt—RELIEF!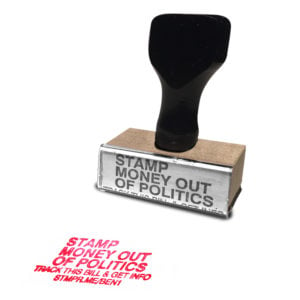 The act of stamping—if you've got your chair and stamping surface at just the right height and if you use good stamping technique ACTUALLY RELIEVES SCIATICA PAIN.
That leaning forward posture elongates something or other and reduces pressure on the affected nerve. And maybe, just maybe, the universe also kicks in a little help to reward you for doing your patriotic duty to our country and the world.
Either way, the message is simple: The Key Is To Just Keep Stamping.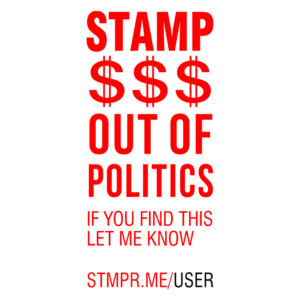 Where have you stamped today? Send us photos at info@StampStampede.org. 
TKITKOS,
Disclaimer: Medical advice on this website is not intended to be a substitute for professional medical advice, diagnosis or treatment. Always seek the advice of your physician with any questions you may have regarding a medical condition or treatment and before undertaking a new health care regimen, and never disregard professional medical advice or delay in seeking it because of something you have read on this website.