Are state Supreme Courts really nonpartisan? With dark money in the mix, it's questionable.
A study conducted by the Brennan Center for Justice and the National Institute on Money in Politics found that special interest spending accounted for 27 percent of all Supreme Court election spending last year, down from 40 percent in 2016. In states like Arkansas and West Virginia, special interests were responsible for two-thirds of all spending in state Supreme Court elections. By comparison, special interest spending has never surpassed 19 percent in a congressional race over the past twenty years. The worst part? Financial sources for eight of the top ten spenders remain a complete mystery.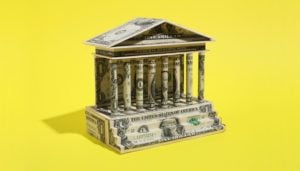 The presence of dark money in state Supreme Court is particularly dangerous as they decide 95 percent of all cases in the American legal system annually. While SCOTUS decided 72 cases in 2018, state Supreme Courts decided over 10,000. "In just the past two years, state high courts struck down the death penalty, authorized businesses to discriminate against same-sex couples, preserved reproductive rights, capped damages in medical malpractice suits, and limited partisan gerrymandering," said Brennan Center reporters Douglas Keith and Patrick Berry. What's more, judiciary bodies are meant to be nonpartisan, which becomes a challenge when dark money from special interest groups bankrolls judicial candidates. As we've seen time and again, such spending is less likely to foster true justice.
Then, of course, there's the lack of diversity on state Supreme Courts. Like many other governing bodies, state Supreme Courts fail to reflect the diversity of the people they serve. 25 states currently have all-white Supreme Courts, and people of color make up only 15 percent of state Supreme Court justices. Get more money involved in these races, and barriers to entry for candidates of color inevitably grow.
The Brennan Center recommends solutions to foster fairness and independence in state Supreme Courts, including stronger ethics rules for justices that would minimize conflicts of interest. "In trying times for American democracy, it is necessary to equip courts so that they can do justice and are worthy of the public's confidence," the Brennan Center wrote.