Big news out of Florida! A federal judge has ruled that Florida cannot prevent the state's 1.4 million returning citizens from voting, even if they have unpaid fines and fees.
Florida voters overwhelmingly passed an amendment during the November 2018 election to restore voting rights to most citizens with felony convictions who have served their sentences. However, the Florida House of Representatives and Governor Ron DeSantis passed a law in June which would require ex-felons to pay all court fees, fines, and restitution before being allowed to vote again, impacting an estimated 500,000 to 800,000 people.
Most states practice explicit or de facto disenfranchisement for citizens who have served their sentences and have returned to their communities. Given the racial biases in our criminal justice system, preventing those who have past convictions from voting has often been seen as another way to disenfranchise minorities. The law passed in June would have functioned as a modern-day poll tax, a tool of the Jim Crow South to exclude people of color, particularly those with low incomes, from the democratic process. The 24th Amendment, ratified in 1964, prohibits poll taxes.
On Friday, U.S. District Judge Robert Hinkle ruled that the state can't bar anybody from voting if they can't afford to pay any outstanding fines or fees.
"When an eligible citizen misses an opportunity to vote, the opportunity is gone forever; the vote cannot later be cast," Hinkle wrote. "So when the state wrongly prevents an eligible citizen from voting, the harm is irreparable."
This marks a victory for voting rights advocates in Florida and across the country. The state's amendment has inspired legislation on the national level with the Democracy Restoration Act, which would give citizens with past convictions the right to vote in federal elections everywhere in the United States. The bill passed in the House as part of HR1 and has been introduced by Senator Ben Cardin (MD) in the Senate.
Protecting and expanding voting rights is a big part of the Stamp Stampede's mission. All Americans are entitled to a say in our democracy, and this ruling is a step in the right direction.
You can show your support by using our Voting Rights Stamps, available in our shop!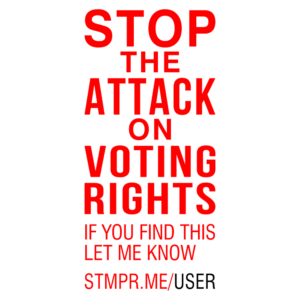 To learn more about the history of voter suppression for returning citizens and the use of poll taxes, check out this article from Vox.