Another Independen$e from Big $$$ in Politics Day has come and gone, but its influence is far from finished. Over the past month, Stampers across the country have been hard at work to #Stamp4Independence, calling on Congress to get big money out of politics once and for all. Thanks to you, 598,250 bills were pledged for stamping. With each stamped bill being seen an estimated 875 times, that's over 523 MILLION impressions!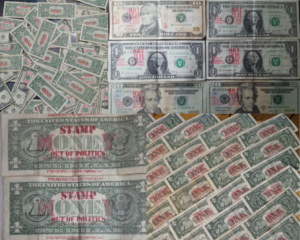 But it doesn't end here. In the words of the Head Stamper Ben Cohen — The Key Is To Keep On Stamping! Together, we're creating a mass visual demonstration of support for meaningful reform that will give us a voice in the policies and elections that affect our lives. The fight for a fairer democracy is stronger than ever before, and that's because of you.
If you took the pledge to #Stamp4Independence and took photos of your stamping, be sure to send them to us at info@stampstampede.org!