Looking for inspiration in dark times? Stamper UUCU attended the Unitarian Universalist General Assembly last weekend in Kansas City, he brought stamping stations and thousands of dollars in stamped $1 bills to make change with vendors.  Dozens of vendors stepped up and helped to spread the message and build demand for a constitutional amendment to end the influence of big money in politics.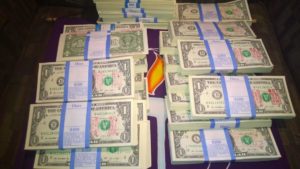 Here's a message from UUCU on why he stamps: 
I am a member of the Unitarian Universalist Church of Urbana/Campaign Illinois. We share 7 principals. The First and Fifth call me to work to "Stamp $$$ Out of Politics!".  Money has corrupted our Federal, State and local governments!  CITIZENS UNITED must be reversed by a constitutional amendment.  Giving the 1% the ability to control government was not intended by our founders!

1st Principle: The inherent worth and dignity of every person;
2nd Principle: Justice, equity and compassion in human relations;
3rd Principle: Acceptance of one another and encouragement to spiritual growth in our congregations;
4th Principle: A free and responsible search for truth and meaning;
5th Principle: The right of conscience and the use of the democratic process within our congregations and in society at large;
6th Principle: The goal of world community with peace, liberty, and justice for all;
7th Principle: Respect for the interdependent web of all existence of which we are a part.
At the Stampede, we're endlessly impressed and inspired by the tens of thousands of volunteers who are doing what they can to build this movement to fix our democracy.  Thank you!