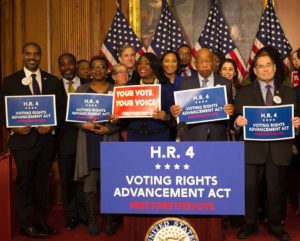 Voter suppression has long been part of our election system. Despite our best efforts to fix it, there always seem to be strategies in place (gerrymandering, strict voter ID laws, or polling place closures, etc.) to keep people from practicing their right to vote. Part of this recent wave of disenfranchisement comes as a result of the SCOTUS decision in Shelby County v. Holder (2013), which gutted key parts of the Voting Rights Act of 1965. Now members of Congress are taking new steps to make sure every American can exercise their right to vote.
Let's look at a couple of the latest bills seeking to expand voting rights:
Voting Rights Advancement Act: This bill from Rep. Sewell (AL) and Sen. Leahy (VT) takes direct aim at the Shelby County decision and seeks to "restore and bolster" the Voting Rights Act. It's currently in the midst of field hearings around the country in places like Standing Rock, ND, where Native Americans living on reservations without formal street addresses were denied the right to vote under the state's voter ID laws. The bill would require states with repeated voting rights violations over the last 25 years to obtain federal approval for any changes to state voting systems. The Shelby County decision eliminated this preclearance provision from the Voting Rights Act of 1965.
Democracy Restoration Act: Florida made headlines during the 2018 election for restoring the voting rights of 1.4 million people with past felony convictions through a constitutional amendment. This effort is now being taken to a national stage with the Democracy Restoration Act, which would give citizens with past convictions the right to vote in federal elections everywhere in the United States. This is critical, as most states practice explicit or de facto disenfranchisement for citizens who have served their sentences and have returned to their communities. Given the racial biases present in the criminal justice system, preventing those who have past convictions from voting has often been seen as another way to disenfranchise minorities. The bill passed in the House as part of HR1 and has just been introduced by Senator Ben Cardin (MD) in the Senate.
Protecting and expanding voting rights is a big part of the Stamp Stampede's mission. All Americans are entitled to a say in our democracy, and supporting these bills makes that possible.
You can show your support by using our Voting Rights Stamps, available in our shop!