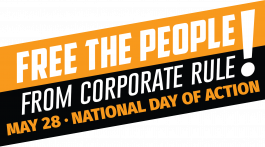 The time has come to end the suffocating grip that corporations and big-money interests have over our democracy. An amendment to restore democracy to the people is in the works, but it needs your help. Join Move to Amend's National Day of Action on May 28th!
What does the Day of Action entail?
The Day of Action is an opportunity to show your House representative that you want a voice in your democracy. It's also a way to support the passage of the We the People Amendment (HJR48). Gather your friends, your family, your neighbors, and your community and organize a demonstration or press conference in front of your representative's local office. Invite a group of organizers who can speak to the need to overturn Citizens United and get big money out of politics. Circulate a resolution to show your representative how much support the amendment has. You can also attend an established Action on that day (check out the map for targeted House reps and local contacts).
What resources are available for demonstrators?
A suggested planning timeline is available on Move to Amend's website. Once you have registered an Action for May 28th, Move to Amend will provide resolution and press release templates, tips for photographing and recording demonstrations, and suggestions for spreading the message of the We the People Amendment on social media. Support webinars will be available on May 8 and May 22, with a debrief on June 5. All webinars are scheduled for 8:30 PM EST.
Citizen lobbying efforts like this are critical for major reforms such as ratifying constitutional amendments. Ending corporate rule and restoring democratic power to the people is going to require all hands on deck. We hope to see you out and engaged in the National Day of Action on May 28th!