The annual Granny D Walk is back! On August 3rd, honor the radical lady herself in a walk from Dublin to Petersborough, NH to protest big money in politics!
Who was Granny D?
Doris "Granny D" Haddock (1910-2010) was a legendary reformer in New Hampshire and the founder of Open Democracy. Beginning January 1, 1999, Granny D walked 3,200 miles from Pasadena to Washington, D.C. Her goal was to bring awareness to the issue of big money in politics. The path included 1,000 miles in the desert, a hike through the Appalachians, and 100 miles of skiing when the weather made walking impossible. When she arrived in D.C. on February 29, 2000, over 2,200 people were there to greet her, and several members of Congress joined her for the last few miles. Many credit Granny D's walk as a key factor in the passage of the McCain-Feingold Act in 2002, which regulated campaign financing. The late Sen. John McCain once called her walk "one of the most remarkable feats in American political history."
To learn more about Granny D, check out Open Democracy.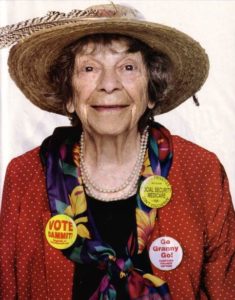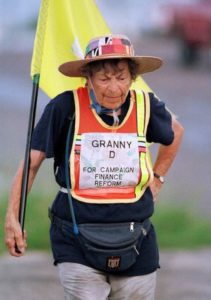 The 2019 Granny D Memorial Walk
This year's Granny D Walk is notable as the 20th anniversary of Granny D's original trek. The walk is a far more manageable six miles from Cobb Meadow Rd in Dublin, NH (near Granny D's home) to Depot Square in Peterborough. Friends of Granny D will be speaking of her legacy, and there will be a community celebration in Peterborough. Organizers will provide free water and coffee, as well as lunch for all who RSVP. You can even get a Granny D hat to wear on the walk!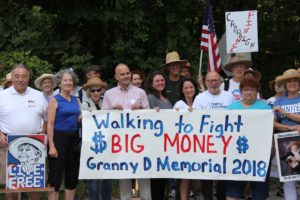 For more information on the Walk and to RSVP, go to Open Democracy's website or email Olivia Zink.
If you can't make it to New Hampshire, that's okay! You can still support the marchers by stamping your money. NH Rebellion, an Open Democracy affiliate and Stamp Stampede partner, has a dedicated stamp available in our shop.