Following the first primary debate of the 2020 election cycle and growing public pressure, the DNC is considering a debate focused specifically on the climate change emergency. Now End Citizens United, a nonpartisan political action committee funded by grassroots donors, is calling for a similarly specialized debate on corruption and democracy reform.
"Several Democratic presidential candidates have already released plans to end the dominance of big money, restore ethics in Washington, end partisan gerrymandering, and expand and protect the right to vote," End Citizens United President Tiffany Muller wrote in a letter to the DNC last week. "[The candidates] should all be given the opportunity to discuss these plans and how they will prioritize and implement them if elected."
Hosting a debate focused on democracy reform is not only unprecedented, but it is also critical. The myriad policy issues and proposed solutions at play during this election cycle boil down to the roles that money, voters, corporations, and politicians play in our democracy. Regardless of who we elect, corporations and the money have more "free" speech than we do under the current system. If our democracy stands a chance of surviving, we must consider the possible reforms on the table, in a format beyond one or two hurriedly-answered debate questions.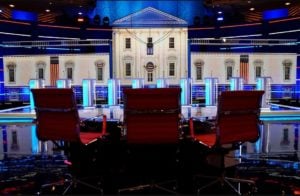 Many candidates in the last two federal election cycles made democracy reform a major part of their campaign. They committed to anti-corruption platforms and focused on small donations from individuals. With the passage of H.R.1 in the House in March, democracy reform is getting more attention. But we need a commitment that whoever we elect is truly working for the people, and they are ready to make such reform law.
Join End Citizens United in calling for a democracy reform and anti-corruption debate, and be sure to drill the message home by stamping those bills!