Doug Hughes isn't a name familiar to most. A mild-mannered postal worker from Florida, Hughes delivered mail for 13 years without drawing much attention.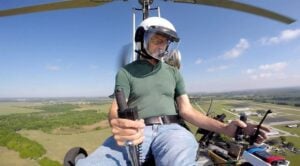 That changed on April 15, 2015, when Doug Hughes flew a gyrocopter 70 miles and landed on the U.S. Capitol's West Lawn, whereafter Capitol Police shortly arrested him. But he live-streamed his courageous flight and made headlines across the country. More importantly, Doug took flight for a reason: to bring attention to the movement for campaign finance reform.
Doug carried with him 535 letters, one for each member of Congress. In each letter, Doug wrote the following:
"I'm demanding reform and declaring a voter's rebellion in a manner consistent with Jefferson's description of rights in the Declaration of Independence. As a member of Congress, you have three options. 1. You may pretend corruption does not exist. 2. You may pretend to oppose corruption while you sabotage reform. 3. You may actively participate in real reform."
Doug spent four months in prison for his courageous act of civil disobedience, eventually mailing his letters to Congress in 2017. He has just one regret regarding the flight:
"I should've worn a heavier sweater," he says. "I nearly froze to death."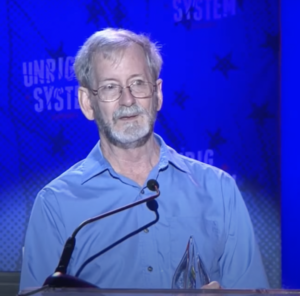 Among democracy reform advocates, Doug Hughes is adored. Ben and Jerry were among 1,400 activists arrested in campaign finance reform demonstrations held shortly before Doug's sentencing. He inspired two different ballads (you can hear them here and here). Doug even received a Courage Award from RepresentUs during their first Unrig the System Summit in 2018 (watch his acceptance speech here).
"I decided that this message, that we must get the money out of politics, was worth any risk as long as I did no injury and no property damage," he told the crowd. "I think this we must all be dedicated to, that this is the issue of our lifetimes."
Now Doug is telling all in his new book, Flight Plan: A Mailman's Aerial Adventure and Special Delivery. The book details Doug's inspiration and planning for his daring flight, as well as its aftermath. The Stampede even gets a shout-out!
You can read an excerpt from the book here.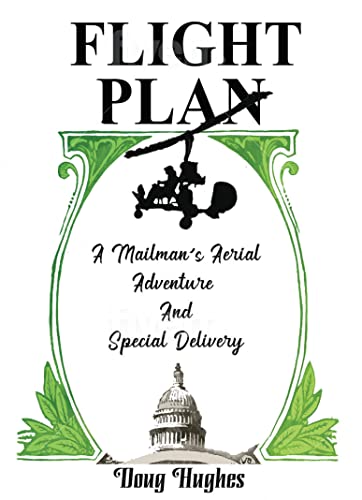 Flight Plan: A Mailman's Aerial Adventure and Special Delivery is now available on Doug's website and wherever you get your books.