Back in June, we reflected on how the Supreme Court's 2013 ruling in Shelby County v. Holder rolled back key parts of the 1965 Voting Rights Act and led to rampant voter suppression. Now the House of Representatives has taken a major step towards restoring voting rights protections.
On Friday, the House of Representatives voted 228-187 to pass the Voting Rights Advancement Act (H.R. 4). Introduced by Rep. Sewell (D-AL), the bill focuses on the "preclearance" provision gutted by the Supreme Court. Preclearance required states with a history of voter discrimination to obtain federal approval for any change to voting practices that might affect minority voters. If it becomes law, H.R. 4 would restore and update preclearance procedures and hold violating states accountable to the Department of Justice.
"No right is more precious to our citizenship than the right of all Americans to be able to vote," said Rep. Sewell. "When Americans are not able to cast their ballots, their votes are silenced."
The Voting Rights Advancement Act will face an uphill battle, as opposition looms in both the Senate and the White House. But this is a moment of hope. Rep. John Lewis (D-GA), who helped to lead two separate marches for the right to vote in the civil rights era, presided over the vote and announced its passage.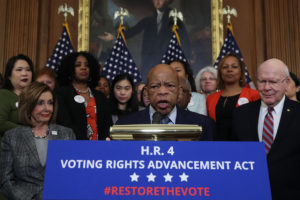 "So many of us walk the halls of Congress because of [the Voting Rights Act of 1965]," Sewell told Lewis. "To say thank you…doesn't seem adequate."
Congress must deliver at the national level by passing the Voting Rights Advancement Act to ensure that we have the tools we need to address current racial discrimination in voting. You can make your voice heard by calling your representatives and stamping your money with our voting rights stamps!