In a year of spectacular firsts, America outdid itself again in the realm of campaign finance. Spending in the 2020 election reached $14.4 billion, more than doubling the record set in 2016.
According to OpenSecrets, a number of additional records comprise this whopping $14.4 billion total:
President Biden's campaign became the first presidential campaign to raise over $1 billion.

The Senate runoff elections in Georgia, which took place in January, became the most expensive Senate races in history. The Ossoff-Perdue runoff alone saw $510 million in total spending, while the Warnock-Loeffler special election spent over $363 million.

Nine of the ten most expensive Senate races of all time occurred in the 2020 election cycle. Democratic Senate candidates spent over $1.1 billion, while Republican Senate candidates spent $752 million.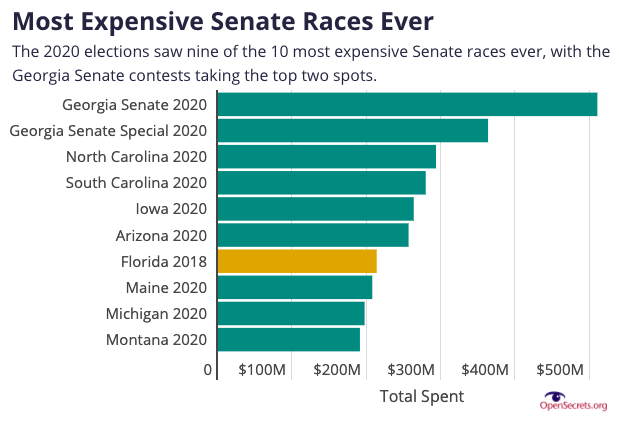 These obscene totals also include spending in the primary races. Democratic candidates and groups spent $8.4 billion in the 2020 election, with self-funded billionaire candidates Michael Bloomberg and Tom Steyer accounting for $1.4 billion. By contrast, Republican candidates and groups spent $5.3 billion.
Dark money spending, meanwhile, reached $3.3 billion, nearly doubling the previous record set in 2016.
Oh my. What can be done to stop this crazy train?
One of the top priorities in Congress right now is the re-introduced For The People Act (HR1). This landmark bill takes a multi-faceted approach to democracy reform, including campaign finance reform. Some of its features include:
Introducing a public campaign financing system and a constitutional amendment to overturn

Citizens United

;

Requiring super PACs and dark money donors to disclose their donors; and

Expanding access to free and fair voting practices and curbing voter suppression.
For more information on HR1, check out our January blog post.
The Stamp Stampede is a proud supporter of the For The People Act. But there's still a lot of grassroots work we can do to get big money OUT and voters IN. Find ways to get involved with our partners and friends. Contact your Members of Congress and urge them to take action on campaign finance reform. And, of course, keep on stamping!