Back by popular demand! The Stamp Stampede is offering a Pay-What-You-Can promotion on Cyber Monday, November 26, 2018.
We're building a massive, sustained movement to get BIG money out of politics and stop voter suppression.  But the only way we win is if everyone joins in to fix our democracy. And the Stampede is the most powerful way to make your voice heard day in and day out.   Cyber Monday is a great time to share the Stampede with your friends and family and help build the movement!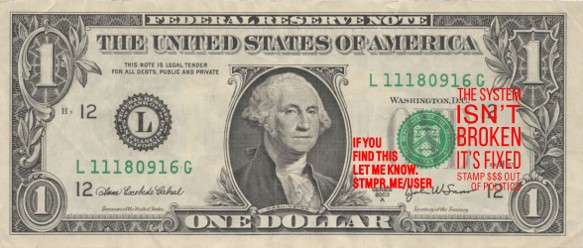 Here's How it Works:
Choose your own discount by picking from one of ten coupon codes — the maximum discount is $13.50 — that's one self-inking stamp PLUS shipping & handling free of charge!
Add your coupon code at check out.
Save some dollars and help save our democracy!
We need your help to grow the movement and what better way than using and sharing the Pay-What-You-Can Cyber Monday discount codes!
Pick your Discount Code:
| | |
| --- | --- |
| Savings | Discount Code |
| Take $2 off your purchase | PWYC2 |
| Take $4 off your purchase | PWYC4 |
| Take $6 off your purchase | PWYC6 |
| Take $8 off your purchase | PWYC8 |
| Take $10 off your purchase | PWYC10 |
| Take $12 off your purchase | PWYC12 |
| Take $13.50 off your purchase (including shipping & handling) — that's one self-inking desk stamp free of charge! | PWYCF |
Get a Stamp and Join the Stampede
Support the Stampede
Do you love the Stampede and want to support initiatives like this that make it easy for everyone to participate? Please consider making a donation to help cover the cost of giving away stamps and stamping stations. The Stampede is a project of People Power Initiatives, a 501c3 non-profit. Donations are tax-deductible to the full extent under the law.